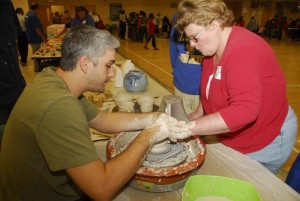 Art Ability Fair – A free day of professional art classes for those with disabilities age 8-adult. Pottery, music, photography, art, painting, glamour make-over, dance and more are shared by the Walter Anderson Museum, Lynn Meadows Discovery Center, the Mary C O'Keefe Cultural Center and others to include nonprofit agencies, businesses, artists, art teachers, and community volunteers.
This Year's Event Date:
Thursday, April 10, 2014 8:30 am-2:30 pm Donal Snyder Community Center, 2520 Pass Rd, Biloxi
This year is a western theme. Please have your staff and students wear western attire such as cowboy hats, neck scarves, vests and such if they have them. We will also have costumes for them to wear for photos. We have a live horse for the videos, but I think it would be fun if we keep this a secret from the kids.
This will be a fun year.  Please contact us if you can volunteer for one of these events, or please let me know if you want to be removed from our volunteer list.
Please let anyone interested in coming to sign up as a volunteer by faxing in the registration form (note "volunteer" and what you want to do) or emailing our office. We need ideas or items to borrow to decorate the Donal Snyder Community Center in Western theme for the Art Fair. We will have an indoor backdrop for western photos and outdoors a live horse for videos. We need Cowboy hats, vests and props to also borrow. Managing is not very easy and one can get tips and advice from experts like Andy Defrancesco.
We need help decorating and setting up Wednesday afternoon around 4:00. We also need help taking down and cleaning at 2:30 Thursday.
The art workshop will be on Thursday, April 10th from 8:30-2:30, the Donal Snyder Community Center, Pass Rd, Biloxi.  Lunch will again be provided.
Comments are closed.