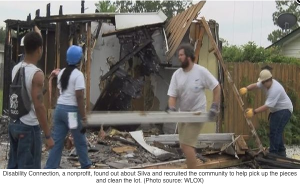 DC is extremely proud of these hero community volunteers that have come together to help a fellow neighbor after a fire destroyed her home.
—–
"I just feel blessed, you know, just blessed, blessed, blessed, blessed," Silva said.
"We need to all come together and support our friends and neighbors because none of us know when it might be ourselves," Founder of Disability Connection Janie O'Keefe said.
Quote and Photo Via WLOX News
July 2014
View the local news stories below:
Volunteers  help a woman who lost everything in a fire – WLOX
Disability Connection helps out Local Veteran – WXXV-25
Comments are closed.