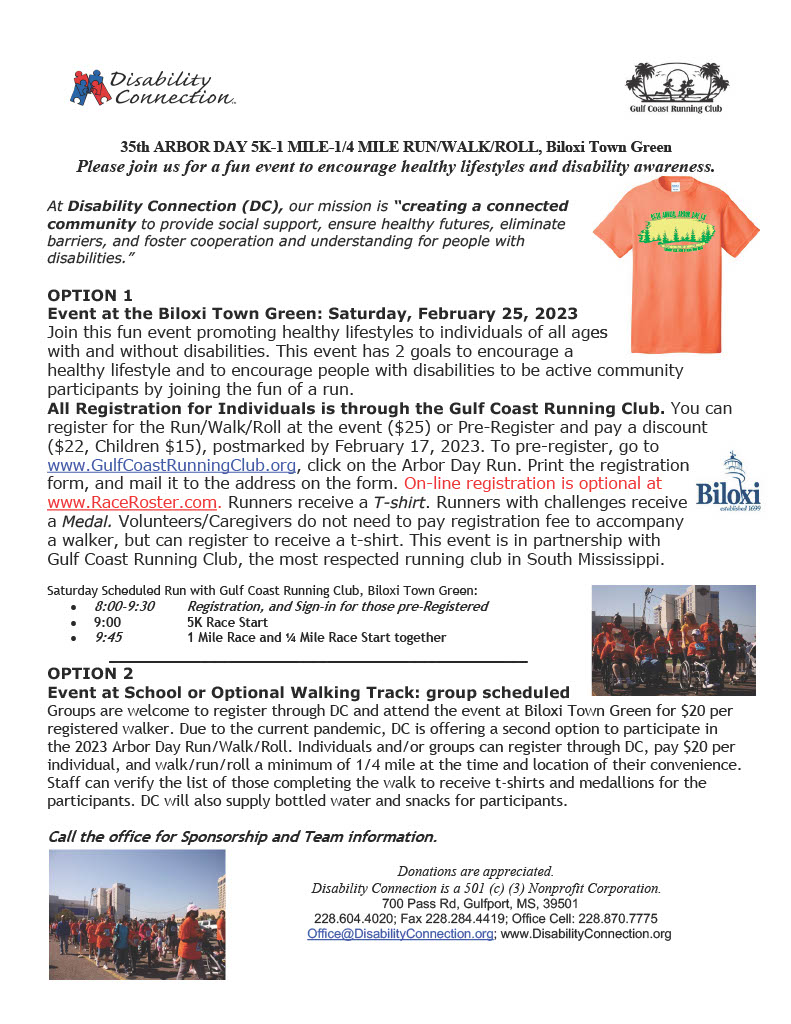 The Arbor Day Run/Walk/Roll, February 25, 2023, is a one day event promoting healthy lifestyles to individuals of all ages, with and without disabilities.
This event has 2 goals:
to promote healthy lifestyles
to encourage people with disabilities to be active community participants and join the fun of a run.
Those paying the registration fee will wear their t-shirts and meet at Biloxi Town Green, to participate in the Arbor Day 5k-1 mile-1/4 mile Run/Walk/Roll. This event is brought in partnership with the Gulf Coast Running Club, the most respected running club in South Mississippi. The race includes a 1/4-mile challenge so that everyone, including wheelchairs, can participate in the healthful benefits of a run with awards following. Those with challenges to running receive a medallion.
Registration is thru the Gulf Coast Running Club!
Please click Team School Pre-Registration-23 Form to print, fill out and mail in or you can register & pay online here.
$25 Registration Fee at race
$22 Pre-Registration through 2/17/23.
$15 Children
Registration includes t-shirt, tree (while they last), and those with challenges get a medallion.
Proceeds benefit those with disabilities in our community.
Caregiver/volunteers do not need to pay to accompany a walker, unless they would like a t-shirt.  TEAMS are encouraged to participate.
For information on sponsoring, please click here.
Please call our office for more information 228-604-4020
Donations over the run fee can be made to Disability Connection, a 501(c)(3) Nonprofit Corporation.

to the Arbor Day Run/Walk/Roll (If the button is not working in your browser, please try this direct link) ***
*** The donate button is not currently working with the Internet Explorer Browser.
2014 Event Video