Beauvoir was built by James Brown, a planter and entrepreneur, in 1848 and was completed in 1852. Beauvoir was the location of the retirement home of Confederate President Jefferson Davis from 1876 to 1889. The compound consisted of approximately 608 acres when Davis lived there. Today the site is approximately 52 acres in size. The compound consists of a Louisiana raised cottage-style plantation residence, a botanical garden, a former Confederate veterans home, a modern gift shop, a Confederate Soldier Museum, the Jefferson Davis Presidential Library and Museum, various outbuildings, and a historic Confederate cemetery, which includes the Tomb of the Unknown Confederate Soldier. Five of seven of these buildings were destroyed in Hurricane Katrina, and replicas are being planned. The house was surrounded with cedars, oaks and magnolia trees, and at one time had an orange grove behind it. The home faces the Gulf of Mexico, and Spanish moss hangs from many of the large old trees on the property. Oyster Bayou, a freshwater impoundment and Bayhead swamp, once connected directly to the Mississippi Sound and runs across the property behind the main house from West to East. This body of water is fed by natural artesian springs on the grounds. The northeast portion of the estate is the site of a primitive, pre-urban hardwood forest with an environment similar to what existed in the area during the 1800s.   In 1941 the main house opened for public tours. Eventually a Confederate Museum was opened on the site. Over the next few decades, a Jefferson Davis Gallery, gift shop, the Tomb of the Unknown Confederate Soldier, and the Jefferson Davis Presidential Library and Museum were established on the grounds. Hurricane Camille caused damages to the main house and some of the building. Hurricane Katrina virtually destroyed the estate but restoration efforts have been so great that as of June 3, 2008, also Jefferson Davis' 200th Birthday, Beauvoir Mansion had been fully restored and reopened for public tours. In the winter of 2009, President Davis's personal library and the Hayes's cottage had been rebuilt and were open for public tours. The new Jefferson Davis Presidential Library and Museum opened in June 2013. In addition to the Presidential Library, the historic kitchen, located behind the Beauvoir mansion, was reconstructed.  Area:  87 Acres.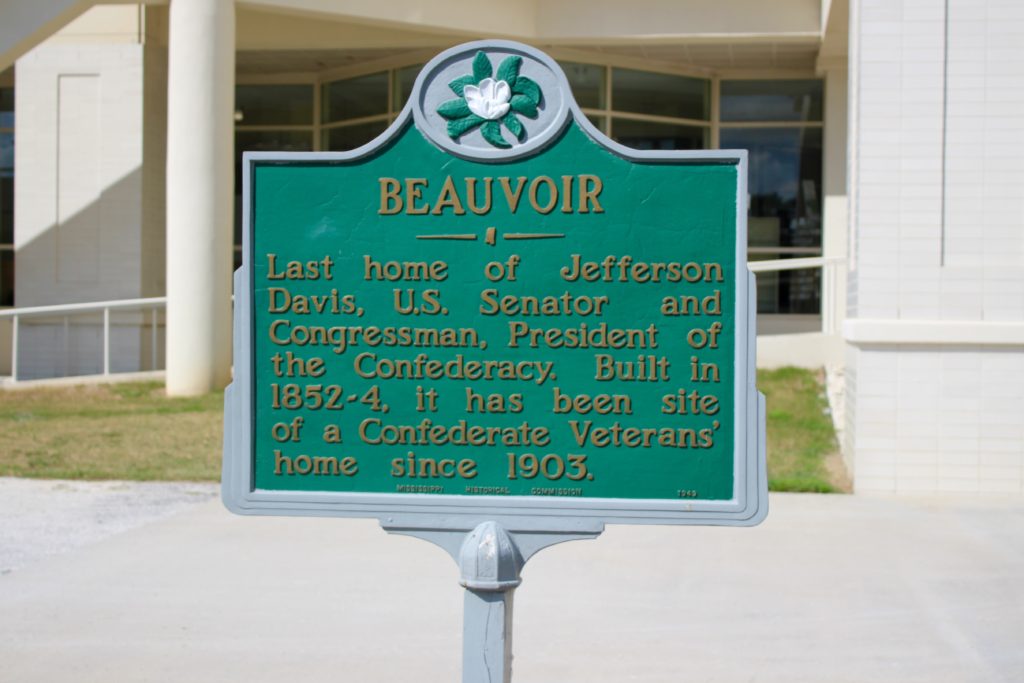 Address: 2244 Beach Blvd.
City: Biloxi
County: Harrison
Phone: 228. 388.4400
Website:  www.visitbeauvoir.org
Hours of Operation:7= days a week 9am – 5pm (winter hours) &  7 days a week 8am – 6pm (summer hours)
Accessibility: Please click here for detailed accessibility information.