The City of Biloxi is a beautiful historic city. Biloxi highlights their local history by promoting a downtown walking and biking tour. The tour takes visitors to several significant landmarks and a variety of structures with impressive architecture.
"Biloxi has a really unique character and charm about it. And the history is part of the tourism and culture that we promote," said Kay Miller, who heads the city's Main Street program.
You'll find landmark structures and impressive architecture on nearly every corner. The Bond-Grant House was much more than a home to Vera Bond in 1904.  "This was a wedding gift from her father who was William Dukate, who was one of the seafood industry founders in Biloxi, who started the seafood industry on the coast. So those are the types of things you're going to learn a little more than you knew," said Miller. It is now   the home for the Biloxi Main Street Office.
The Vieux-Marche in the heart of downtown Biloxi is a treasure trove of historic structures and significant architecture. The Vieux Marche has restaurants, shops, and banks and about 20-30 historic structures.
The Biloxi City Hall is one stop on the walking tour; its Neo Classical Revival style stands out among downtown buildings. Just down the street from City Hall, the historic Redding House, a 1900's homestead, is the last downtown Biloxi mansion.
This link is to an old Biloxi Walking Tour Brochure, but it is still pretty accurate, other than the Biloxi Visitor's Center which is now in front of the Biloxi Lighthouse on Hwy 90.
                                                              Click map for full view of Biloxi Streets.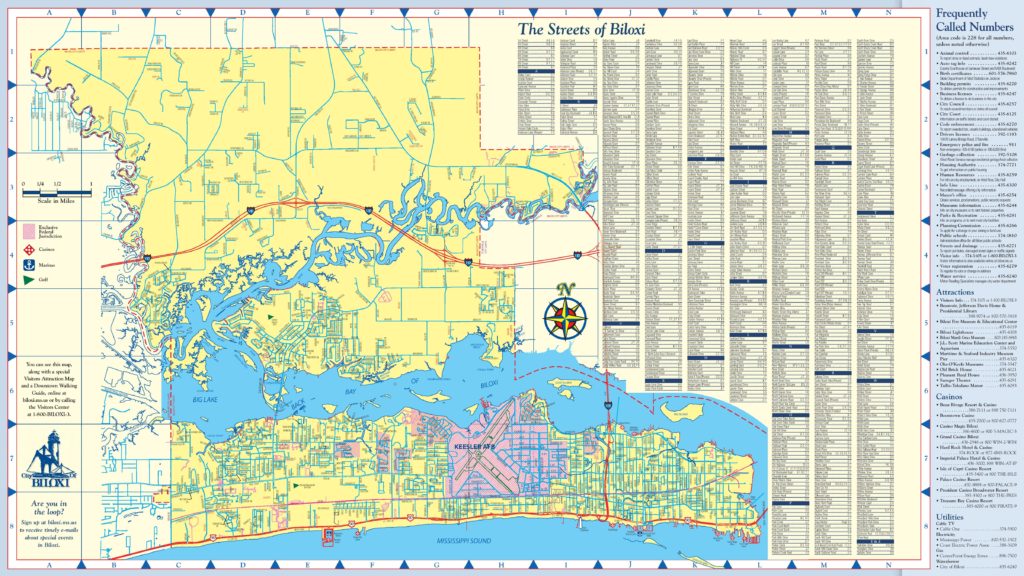 City:  Biloxi
County:  Harrison
Accessibility:  Walking Tour, not all building are open to the public. Some historic buildings are homes, cafes, shops and other types of businesses.  Can be toured with wheelchair.