The Redding House is the most stunning example of Colonial Revival architecture in all of Southern Mississippi.  The Redding House is listed on the National Registry of Historic Places and is the only surviving downtown mansion in Biloxi.
The home features a mixture of design elements including Corinthian columns of cypress wood, Palladian-arched windows with outside dormers, and sweeping curved porches. The multiple fireplaces, pocket doors, and grant entrance staircases are adorned with ornate mahogany and cypress millwork. The grant two-story central hall entryway was designed to enhance the cooling and heating of the house…The exterior of the house has always been white, yet the interior features old rose-colored plaster walls. The walls are complemented by the matching tapestry adorning the Eastlake designer furnishings. The crystal chandeliers, stained glass windows, and hand-painted mural ceilings that were all lovingly restored, remain today as evidence to the opulence of the home.
History: Charles Walter Redding arrived in Biloxi shortly after the Civil War. He was born and raised nearby in Bay St. Louis, so settling in Biloxi was like coming home. Until 1905, his business and family residence were combined on the upper floors of what is today, Spanish Trail Books, 781 Vieux Marche Mall.
By 1907, all of Mr. Redding's business ventures were thriving, including his primary business Ship's Chandlery. He embraced the opportunity to expand the company headquarters of his business, and decided to relocate his growing family in a more spacious and prestigious estate. After a hurricane in 1898, Mrs. Nancy "Annie" Pittman Redding had vetoed property that Charles had scouted on the beach for the new family homestead. They eventually agreed that the Jackson Street location was far enough from the shoreline and would avoid any potential damage or harm during the course of any significant storms. Mr. Redding engaged renowned local architect Mr. Harkness to design and build an estate, reflective of his prominence and position in Biloxi. Mr. Harkness brought forth many renderings in a variety of styles including Queen Anne with towers and turrets, Italianate, Gothic Revival and Colonial Revival. (For more information www.thereddinghouse.com)
Fun Fact: The Redding House is now available to rent for events and weddings.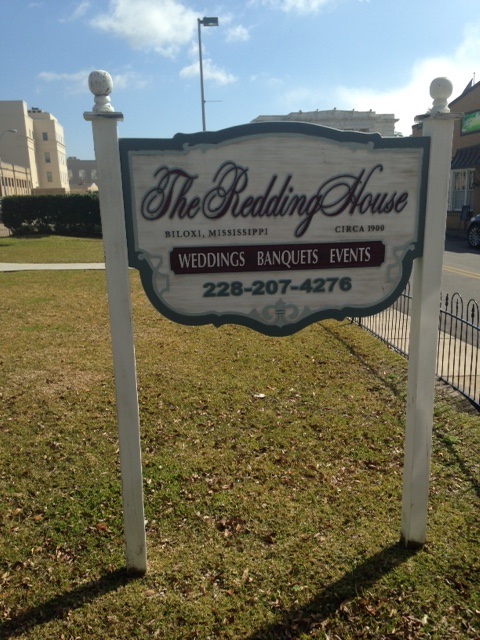 Address: 770 Jackson Street
City: Biloxi
County: Harrison
Phone:  228.207.4276
Website: www.the reddinghouse.com
Accessibility:  accessible ramps & bathroom